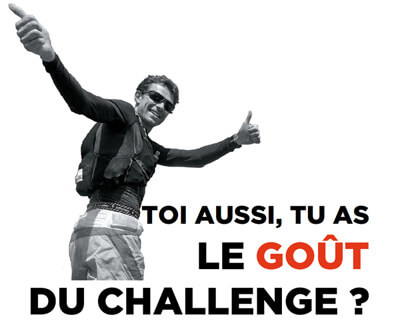 Nutrisens Sport Challenge – a trailblazing adventure!
We set ourselves the mammoth task of getting two action sports novices to the starting line of the 2016 Grand Raid Réunion. François D'Haene, two-time winner of the Diagonale des Fous, will be calling on his experience to help them prepare for the world's toughest ultra-trail event.
A first!
A 164-kilometre route with 9900 metres of climb along the steep, inhospitable trails of the island of Reunion, in October 2016. This is the daunting task facing the two thrill seekers selected to take up the Nutrisens Sport Challenge. «The concept sprang from a discussion with Nutrisens partner François D'Haene, who has twice won the Diagonale des Fous. The idea was to set up a fun challenge that will give one man and one woman the chance to fulfil their dream of taking part in the most demanding of ultra-trails», Nutrisens CEO Georges Devesa explained.
The unprecedented operation kicked off with the application process on 1 April. Candidates then had two months to polish and submit their résumé and supporting letter.
The field was narrowed down to five men and five women who fulfilled a range of criteria, including physical fitness, regular sporting activity, motivation, and a minimum of experience in trail running. These are customary precautions designed to avoid the risk of prospective adventurers throwing in the towel during preparation.
An expert panel made up of François D'Haene, mentor for the two finalists, Christophe Petagna, fitness trainer, Grégoire Ferré, osteopath, and a Nutrisens specialist then got together to draw up a short list of four names from which the lucky pair were picked. «We looked for a keen amateur sportsman or woman, a Sunday-morning runner who has always been fascinated by the Diagonale des Fous without ever daring to imagine that they'd take part one day. We weren't after hyper-trained ultra-trail specialists. The aim is not to win the event, but to encourage our two participants to push themselves to the limit and cross the finish line.»
Morgane and Nicolas stood out
Morgane and Nicolas were selected from over 2350 applications and will therefore take part in the Diagonale des Fous, in October 2016.
It was by no means easy to choose just two out of the many worthy candidates, but Morgane and Nicolas stood out. "All ten finalists were highly talented athletes", coach Petagna said. « We had to tighten up the selection criteria to make a choice. Morgane and Nicolas are both willing to take a fresh look at themselves, and particularly their training regimes. They are very open-minded. »
Morgane, 38, is mother to three children and has already completed an 80-km trail run. « I'd dreamed of taking part in the Diagonale des Fous before I'd even done a trail run », she admitted.
Nicolas, 35, who has a ten-year-old daughter, is a novice when it comes to long distances. Although he manages a trail run every year, he has only ever tackled 50-km races. «I'm a fighter who never gives up! I'm very determined».
Just as well, because determination will be needed by the bucketload!
Teamwork, the key to preparation
Like most top-level athletes, our two runners are backed by a quality team in preparation for the event:
François D'Haene, two-time winner of the Diagonale des Fous interview
Christophe Petagna, sports coach, interview
Marine Bertaud, Nutrisens dietician, interview
Grégoire Ferré, osteopath, interview
With support from the rest of the team, Challenge mentor D'Haene is responsible for putting together a training programme that is specifically tailored to his two protégés' profile. Their gradual buildup includes regular monitoring and entry into several intermediate races to be ready in time for the big day.
Once they have been prepared, our two Nutrisens ambassadors will receive their flight tickets to the Indian Ocean island, as well as on-site accommodation and, of course, their entry into the 2016 Grand Raid Réunion. And their dream will come true!