Malnutrition is a pathology that translates as an energy imbalance, i.e. insufficient nourishment to cover bodily functions. In elderly people, malnutrition is of the protein-energy type. Protein-energy malnutrition is a deficiency in proteins and energy, often coupled with a deficiency in vitamins and minerals.
Key figures:
According to a 2007 French government health report, malnutrition affects:
4–10% of elderly people who live at home
15–38% of elderly people living in institutions (retirement home etc.)
Up to 70% of hospitalised elderly peopleSeniors at a high risk of malnutrition
Seniors at a high risk of malnutrition
Three factors influence the degree of risk:
Several changes that come with age can lead to malnutrition if left unchecked. Loss of appetite can lead to undernourishment. This is often known as the anorexia of ageing.
 
Elderly patients tend to resist renutrition. A young adult will naturally make up for a period of restricted eating (e.g. hospital treatment). However, an elderly person tends not to compensate in the same way. It is therefore very important to take preventive action.
 
Changes in protein metabolism in the elderly lead to a loss of lean mass (muscle) and an increase in fat. This age-related muscle wasting, or sarcopenia, can be corrected with regular physical activity and a suitable protein intake.
Accounting for specific needs:
| | | |
| --- | --- | --- |
|   | RDA* elderly people | RDA* undernourished elderly people |
| Energy | 36 kcal per kg bodyweight | up to 40 kcal per kg bodyweight |
| Proteins | 1.0-1.2g per kg bodyweight | up to 1.5g per kg bodyweight |
* Reference Intake for the French population Martin A. et al. Tec & doc, 3e édition, Paris 2011
Causes of malnutrition
Malnutrition can be:
Endogenous: energy requirements outweigh intake This happens when proteins, fat and carbohydrate are broken down excessively (hypercatabolism). This is a defence mechanism observed after illness and more generally following chronic or acute inflammation.
Exogenous: insufficient energy intake compared to metabolic requirements. In elderly people, many social, psychological and physiological factors influence food intake.
There are also many preconceived ideas concerning an elderly person's dietary requirements.
Some believe that energy requirements decrease with age but in fact, energy intake should be at least equivalent to that of a young adult.
Consequences: the slippery slope towards malnutrition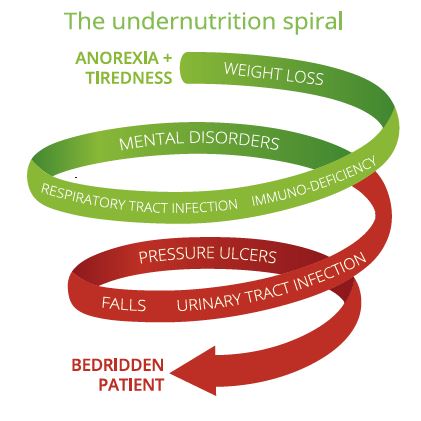 each stage. Insufficient intake generally leads to weight loss. This causes fragility and bouts of illness that last longer and longer. Once the process is under way, it is very difficult to improve the situation. That's why it is important to . act quickly, as soon as the first warning signs appear.
colonne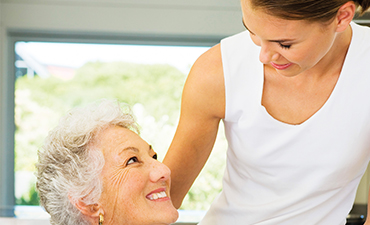 Would you like to know more about manultrition?