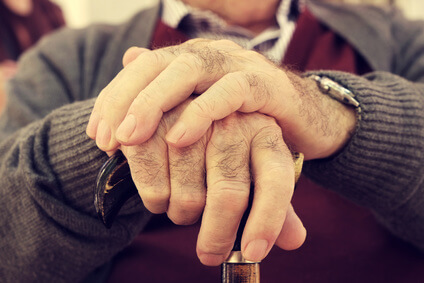 Dysphagia, muscle weakness and cognitive impairment may lead to malnutrition
Recognising the warning signs and taking action to prevent malnutrition.
Studies suggest that malnutrition risk factors are multidimensional. These include sociodemographic (e.g. age, gender, living arrangements and employment status), psychological (e.g. individuals' thoughts and feelings), and health status (e.g. functional ability, presence of comorbidities, polypharmacy, impaired chewing and swallowing). A link has been established between dysphagia and the risk of malnutrition, the ability to swallow and prehensility.
Malnutrition in hospital patients can hinder recovery or healing. To investigate malnutrition risk at the point of hospital admission, scientists in New Zealand researched the warning signs of malnutrition in elderly people and the link between muscle strength, dysphagia and malnutrition.
Three quarters of hospital patients are affected
The survey was conducted in two hospitals in Auckland on a total of 234 adults aged 65 and over, or 55 and over for Māori and Pacific ethnicity. Patients were screened with five days of admission, using a validated screening tool, the Mini Nutritional Assessment Short-Form (MNA®-SF), dysphagia risk by the Eating Assessment Tool (EAT-10), muscle strength by hand grip strength and cognitive status by the Montreal Cognitive Assessment (MoCA) tool.

Among 234 participants, mean age 83.6 years ± 7.6 years, 46.6% were identified as at malnutrition risk (MNA®-SF score of 8-11) and 26.9% (MNA®-SF score of 12-14) already malnourished. Only a third maintained full dentition and an increased risk of swallowing problems was suggested by the elevated mean EAT-10 score of 3.0 (± 5.8). Most patients had reduced muscle strength, cognitive impairment, six comorbidities, and required help with day-to-day activities. A majority of the participants had reduced muscle strength (hand grip), reduced cognitive functioning scores, required daily help with daily activities and had approximately six comorbidities. Hypertension (and other vascular diseases), osteoporosis and chronic obstructive pulmonary disease were the most frequently observed conditions.
Three warning signs
After adjusting for age, gender and ethnicity, analysis identified high dysphagia risk [EAT-10 score: 0.98 (0.97–0.99)], low muscle strength (hand grip strength <13.9 kg), low BMI (< 23 kg/m²) and decline in cognition (MoCA score <17.8) as significant predictors of malnutrition risk.

The report concluded that among older adults recently admitted to hospital rehabilitation wards, almost three-quarters were malnourished or at malnutrition risk. Routine screening would identify those that may benefit from nutritional support. Dysphagia, unsought weight loss, weakened muscle strength and cognitive impairment are all warning signs that should be acted on by carers.  Treating these pathologies may reduce the risk of malnutrition.
Dysphagia risk, low muscle strength and poor cognition predict malnutrition risk in older adults athospital admission. Chatindiara I, Allen J, Popman A, Patel D, Richter M, Kruger M, Wham C. BMC Geriatr. 2018 Mar 21;18(1):78. https://www.ncbi.nlm.nih.gov/pmc/articles/PMC5863453/