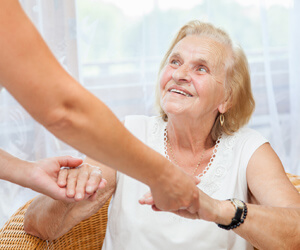 Mealtimes for Alzheimer's patients: hand positioning all-important
The position of the carer's hand when assisting at mealtimes makes a significant difference to the patient's food intake.  
Nursing home residents who require assistance during mealtimes are at risk of malnutrition. Patients suffering from dementia, in particular, may refuse to eat or drink because they have problems swallowing or suffer from apraxia. A team of carers from the nationally ranked geriatric division of Duke University (North Carolina) compared three techniques for caring for patients with dementia. Their findings were published in the Journal of the American Geriatrics Society. 
Dementia requires a three-pronged approach 
According to the study, achieving successful mealtimes for a resident with dementia requires a unique set of skills:
managing dysphagia and risk of aspiration
interpreting and managing attitudes (e.g., turning head away, clamping mouth shut) 
promoting independence in eating while providing adequate supportive handfeeding assistance to maintain nutritional intake. 
The recommendations evoke two main handfeeding techniques: 
Direct Hand: the carer holds the fork or spoon and feeds the patient;
 
Over Hand: the carer puts their hand over the patient's, who holds the fork, and guides their movements. 
In a third technique, the carer holds their hand under the patient's hand to guide it. 
The team of carers based in North Carolina compared the efficacy of the three techniques on assisting 30 Alzheimer's sufferers (average age 88.5, 90% women) in 11 nursing homes. Each technique was tested over six consecutive meals (2 days). Duration of assistance, food intake and behaviour were recorded according to the Edinburgh Feeding Evaluation in Dementia scale. A total of 540 meals were filmed (18 per patient) and analysed.
Placing the hand under the patient's has advantages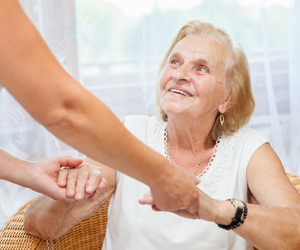 The duration of assistance was the same whatever the technique (41–45 minutes). Food intake was best with the Direct Hand technique (67 ± 15.2%) and Under Hand (65 ± 15.0) compared to 60 ± 15.1% for the Over Hand technique. Refusal attitudes were more frequent with the Over Hand technique (8.3 ± 1.8%) compared to the Direct Hand technique (8.0 ±1.8%) and the Under Hand technique (7.7 ± 1.8%). The authors of the study recommend that the technique should be chosen according to the patient's energy levels, physical abilities and preference. A different technique may be used on different days or for specific meals. In general, the Direct Hand or Under Hand methods are considered most effective. Of course, none of the techniques resolves the problem of the lack of time available for carers to spend on mealtime assistance.
Batchelor-Murphy, M. K., McConnell, E. S., Amella, E. J., Anderson, R. A., Bales, C. W., Silva, S., Barnes, A., Beck, C. and Colon-Emeric, C. S. (2017), Experimental Comparison of Efficacy for Three Handfeeding Techniques in Dementia. Journal of the American Geriatrics Society, 65: e89–e94. doi: 10.1111/jgs.14728