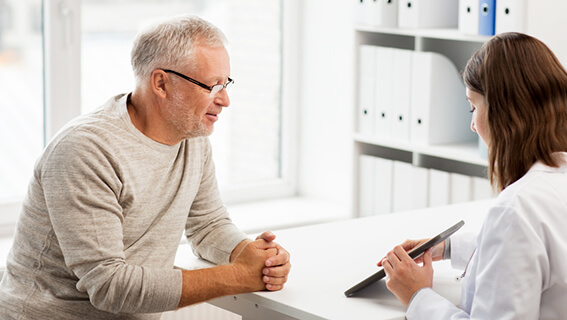 Malnutrition: eating habits are revealing
A SUITABLE DIET
A small appetite, only eating two meals, avoiding protein and losing interest in eating are an indication of risk.
Can an analysis of eating habits help assess the risk of malnutrition in elderly people? That's what French scientists wanted to find out when they surveyed 605 elderly  home-dwellers in France. They published the results in BMJ Open.
What is a pureed meal?
A pureed consistency is smooth with no lumps. All components of a meal – meat, fish, vegetable and fruit – can be pureed. Once the main ingredient has been pureed, cream, egg, mashed potato or a gelling agent can be added. A whole meal of suitable consistency can be presented in a pureed form.
Good food hygiene practices should be strictly followed. Chefs should receive adequate training in the rules and techniques required. These meals should be served as part of an overall nutritional programme designed to fulfil the special needs of elderly persons.
Given these constraints, some residential homes prefer to source meals from nutrition specialists.
Meals, snacks, pleasure in eating, fridge contents… everything counts
To analyse eating habits in the elderly, the research covered 605 users of a meals-on-wheels service. Carers filled in a questionnaire on three non-consecutive days in a week. The survey covered socio-demographic and economic data, refrigerator contents, the three main meals in the day, snacks and/or any aperitifs. Meal times, how they were taken and preferences were all noted. The hypothesis was that eating habits depended on pleasure in eating, place of residence and degree of autonomy.
A small appetite reveals the highest risk of malnutrition
The average age of subjects was 85, of whom 70% live in urban areas and 42.6% have a monthly income of 1000–2000 euros. Over half of the sample (59%) eat out of habit; only 33.7% eat out of pleasure.
1st finding: The consistency of breakfast, the pleasure in eating and living in the countryside all pointed to a larger intake of food for the rest of the day. 
Researchers determined four profiles:
1- 10.3% eat little at all meals. They are all eligible for an attendance allowance. Recommended protein and carbohydrate intake is only covered every other meal. They are at most risk of malnutrition.
2- 34.4% have a hot drink at breakfast time and with snacks but eat little at mealtimes, especially very little fruit. They have two light meals each day (breakfast and dinner) and avoid proteins; they are at a moderate risk of malnutrition.
3- 27.6% eat sufficiently at all meals, including fruit, vegetables and proteins. But they consume very few cold drinks. Their intake meets nutritional recommendations.
4- 27.7% eat a lot of different foods. Their diet is the most copious and varied, including fruit, vegetables and dairy products. They present the lowest risk of malnutrition and are the least dependent group. They are the "ideal" profile.
2nd finding: The refrigerators of Groups 3 and 4 contained the most sources of protein, such as yoghurt, meat and crème fraîche. All the same, those at risk of malnutrition also have sources of protein in their fridges, but they do not eat them.   
Key points 
Meal quality greatly affects the level of satisfaction for residents and their families. The meals served should take account of tastes, habits and constraints. However, catering for individual tastes can be problematic for many establishments.
There is a great variety in eating habits, both in terms of quality and quantity;
Having protein-rich food to hand is not enough; subjects have to want or feel the need to eat it;
Knowledge of habits and preferences helps address needs: proteins in the evening, keep those at risk interested in food; drink more and continue eating fruit and vegetables for those less at risk;
Dependent subjects are most at risk of malnutrition;
Emphasising the indulgent aspects of eating could help elderly people enjoy mealtimes.
Multiple factor analysis of eating patterns to detect groups at risk of malnutrition among home-dwelling older subjects in 2015. Sanchez M-A, Armaingaud D, Messaoudi Y, et al. BMJ Open 2019;9:e023548. doi:10.1136/ bmjopen-2018-023548 https://www.ncbi.nlm.nih.gov/pubmed/31256016