The sense of smell and taste tends to diminish in old age and this is all the more true of Alzheimer's sufferers. The sense of smell is largely affected (sensitivity, discrimination, recognition and identification) even in the early stages of the disease (Nordin & Murphy, 2002).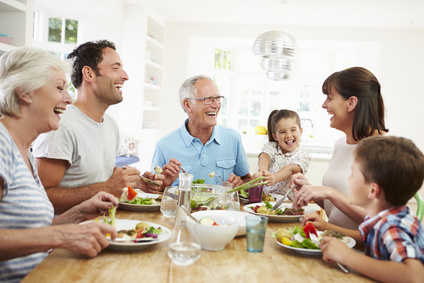 However, a few studies reveal that elderly Alzheimer sufferers develop a sweet tooth (Ikeda, Brown, Holland, Fukuhara, & Hodges, 2002). This can be explained by the fact that the ability to detect sweetness is retained longer by older people and Alzheimer's sufferers.
Bearing this in mind, a randomized, crossover trial examined the intake of high-carbohydrate foods in nursing home residents with Alzheimer's disease over 12 non-consecutive evening meals. The study concluded that providing a high-carbohydrate meal for dinner increases food intake in seniors at later stages of the disease who are experiencing cognitive and behavioral difficulties (Young, Greenwood, Van Reekum, & Binns, 2005).
Alzheimer's sufferers also experience a decline in visual acuity which affects their sensitivity to contrasts (Gilmore, Cronin-Golomb, Neargarder, & Morrison, 2005; Rizzo, Anderson, Dawson, & Nawrot, 2000). A study revealed that tableware in highly contrasting colours helps increase food intake in Alzheimer's patients (Dunne, Neargarder, Cipolloni, & Cronin-Golomb, 2004).
Simple environmental manipulations seem to be effective in improving sensory deficiency and improve mealtime enjoyment in senior Alzheimer's patients (Virginie Pouyet, Cuvelier, Benattar, & Giboreau, 2015).